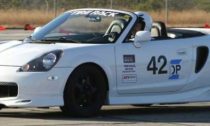 Short answer:  No!  Below is a more detailed account of my entry into the SCCA Solo 2 National Tour in 2006.
I had done about 6 events with my local autocross club and was attending the membership meetings (I signed up to be a member at the 2nd event).  And in talking with a friend, Gordon, he mentioned the National Tour event in Ft. Myers.  I asked if I should even bother entering something like that.  He said "Sure.  It's a great experience!".  He was not wrong about that.  But more on that later.
First, signing up for the event was a bit more involved and it cost quite a bit more too.  I got a hotel room near by since this was a multi-day event.  The Friday was registration and initial tech inspection.  I arrived and was told I needed to pay $3...
Read More