Race tires, while legal to drive on the roads, will wear out quickly due to the soft compound.  So, when going to an event, it's best to bring your race wheels and tires with you and change them at the track.  This isn't so easy with the MR2 Spyder.  There is not much space.  Although, I have seen people store 3 tires in the passenger seat area and 1 in the frunk.  But where is the room for your helmet and tools, etc?  The solution?  Tire Trailer!  I bought a 4 foot trailer from harbor freight with the 13″ wheels (Bigger wheels on the trailer is better.  Imagine how fast those tiny 8″ wheels are spinning when you're going down the highway.) to go along with my Twos-r-Us detachable trailer hitch.
The trailer hitch uses threaded rods and connects to the rear tow hook locations on opposite sides of the license plate area.  The hitch bar and ball slide onto these rods and then a drop pin holds it in place with a clevis pin keeping the drop pin from bouncing out.  It's important to not have a lot of tongue weight when using this hitch as you don't want to stress the welds on the nuts that the rods screw into.  The hitch was offered with a receiver at one time, but later revisions just have a ball attached to it.  This is primarily for safety reasons.  It is a really well designed item for the car and it comes in handy when wanting to bring a lot of stuff with you in this car.  I've even used this trailer to go camping and bring lots of stuff (Coolers, tent, tent canopy, etc).
After assembling the hitch, I bought some plywood and 2×6's and 2×4's and proceeded to build out the trailer since all it comes with is the metal frame.  I mounted a large Stanley box above the wheels to help with balancing the trailer and fashioned the other wood in the front to hold the wheels and tires.  This puts a weight bias towards the front to help prevent wobbling while driving on the highway.  I also bought a swing back trailer jack so that it can rest flat when not attached to a car.  Overall I think it looks pretty good.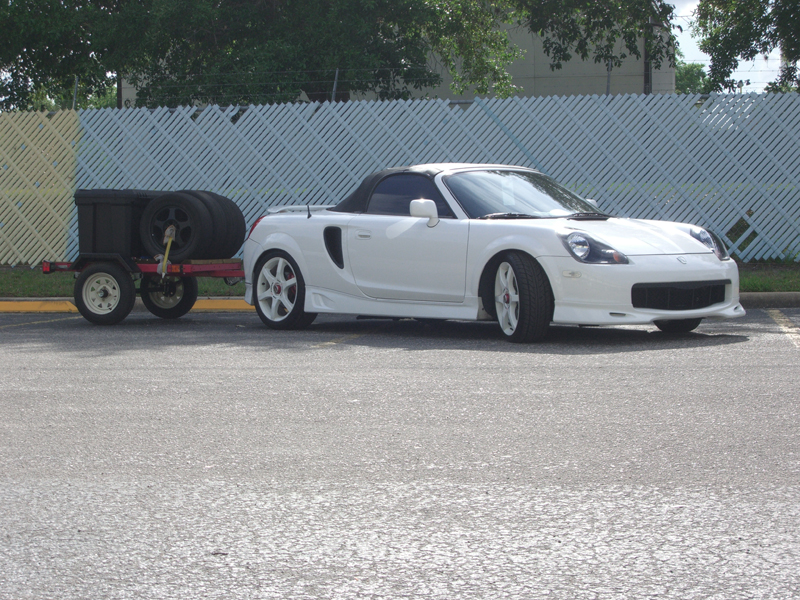 I wired a 5-wire trailer harness converter into the rear tail light so the lights function properly.
Here is how the area is set up to hold the tires.
And here's a bit of the box.