As you may or may not know, I recently bought some new wheels and tires to use for autocrossing. I like how my Big TSW's look better than the Flik's that I bought, but the Fliks are smaller and lighter. Here's a pic of the new wheels on my car: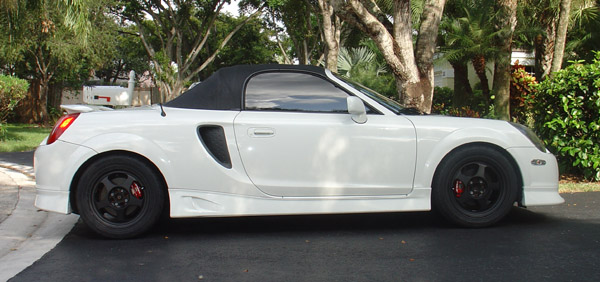 I did some PMD's (Poor Mans Dyno) with the new wheels/tires vs the old wheels/tires. Before I list those results, here are some stats on the wheel and tire combos.
Weight (using bathroom scale):
RF – TSW Revo 17×8 with Nitto NT555 205/40/17 = 42.2lbs
RR – TSW Revo 17×8 with Nitto NT555 225/40/17 = 43.6lbs
RF – Flik Blast-C 15×6.5 with Hankook Ventus Rs2 Z212 205/50/15 = 34.2
RR – Flik Blast-C 15×6.5 with Hankook Ventus Rs2 Z212 205/50/15 = 34.0
So the weight difference is nearly 10lbs (9.4) for the rear wheel!
PMD Results:
Common:
1/2 tank of gas
daily driver config (with spare, tools, Bazooka sub, etc)
4 runs each
Flik:
Time – 8:00AM
Weather – 81F, 85% Humidity, wind calm
Fastest time – 6.73
Slowest time – 6.94
Average time – 6.84
TSW:
Time – 9:00AM
Weather – 88F, 66% Humidity, wind ENE 7MPH
Fastest time – 7.83
Slowest time – 7.95
Average time – 7.89
So as you can see, that is over 1 second faster on average! And, I went into this quite objectively. I figured the times would be faster with the new wheels, but I didn't think it would be this dramatic. So for those who may think that the bigger wheels don't make much of a difference (like I used to think), please look at these results and you now have some hard numbers. I can't wait to see how this new config works at the next autocross in a week.
I'm not sure of the math right now to figure out my percentage of performance gained by the wheels or to calculate what WHP I'm most likely at so if anyone can post a reply with that data for me, I would appreciate it.